31/05/07
Hi fellows...
Please note that I'm not longer using my blog (I don't have the time anymore).
thank you all for the support.
May 31 2007.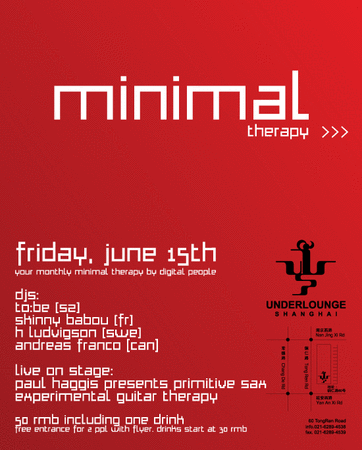 29/04/06
I know that my blog hasn't been updated for a very long time, and it might takes few more weeks to be done (as I'm going to beijing for few days).
For the last few months I have been quite busy (with my study & djiing) and also lazy to post new stuff on my blog. sorry!
Just be a bit patient!
06/02/06
Satoshi Tomiie, the house/tek japanese dj & producer is coming this friday to Shanghai @ Park 97.
Want to find out more about Tomiie's work? then visit his website: http://www.satoshitomiie.com
or listen to his mixes:
- mix 1
- mix 2
26/01/06
The word is undoubtedly spreading about Jackson's stunning debut album 'Smash' and its antique futurist aural collisions.

So hurry up and find out more about Jackson's world.
For more information about Jackson's works:
- check out his website: www.jacksonandhiscomputerband.com
- read his interview
- read the review
18/12/05
I was expecting this weekend to be wicked...well, I have to say, I've been dissapointed:
- Friday: I went to Fabrique see Client (The FCUK party), the two female djs mixed for around 1h15 and I can tell now that they don't know how to play: they were just playing one track after another, and the selection of records was alright, but not great (they played many of their productions though).






- Saturday: Carl Cox @ DKD. Once again, a bit dissapointed: Of course, Carl Cox has wonderful dj' skills but his selection of records was sometimes disturbing.
The club was packed, so crowded that it was almost impossible to dance properly.
At last: a bit angry with the club itself (DKD): They should change their staff or policy: very often in Shanghainese clubs, if you don't order bottles and don't smoke big cigars; you're treated like a shit (I think soon or later, I'll write an article about it).
By the way, I almost forgot, it was also not allowed to take pictures!!!! what a fuck is this! Anyway, I still took 3.
15/12/05
Where am I gonna dance this week-end?

1) Friday @ La Fabrique: Fashion Show (FCUK) + DJ set Client (UK) for their first china tour.
You don't know Client? then click here, and you'll find out more about those chicks (4 tracks in listening).
2) Saturday @ DKD: Carl Cox. After all these years in partying, I've never got the chance to see him playing, so let's see if he hasn't lost his dj skills!
Of course, I'll take some pics and set them online.
14/12/05
Not necessarily brand new stuff, it's just what I'm listenning the most at the moment.
30 sec samples or full length tunes in listening, so enjoy!
Trentemoller -beta boy- (Out of Orbit)
Tiga -you gonna want me- (Different)
Sven Vath vs Anthony Rother "Komm" (Cocoon)
Seelenluft -Manila- ewan pearson mix (Ultra). The original is better but the remix is not bad either
Superpitcher -people- (Kompakt)
Rex the Dog -prototype- E.P (Hundehaus)
Le Tigre -My metrocard- & -Nanny Nanny Boo Boo- (Barclay)
Tiefschwarz -warning sirens- (Fine records)
Fairmont -gazebo/ gazelle- (Border Community)
Agoria -les beaux jours- feat N'Zeng (Pias)
Graziano Avitabile -Aser E.P- (platzhirsch)
Gabriel Ananda -quantenfluktuation- (platzhirsch)










Albums/ Compilations:
Vector Lovers -capsules for one-
Depeche Mode -playing angel-
Jackson and his computer band -smash-
Agoria -cute & cult-
07/12/05
Another good quality E.P from Jake Fairley and the UK based Label "Border Community": Fairmont -Gazebo/Gazelle-
Canadian ex-pat technomeister Fairmont A.K.A Jake Fairley resurrects his sensitive alter-ego fairmont with the gazebo / gazelle doubleheader, which fuses together everything we love in a record (lush synths, rumbling basslines, melancholy overtones) in one lovable package.
To listen to this EP, go to http://www.bordercommunity.com/
26/11/05
Thanks to Xavier, I have for you today a live @ Fuse from the Underground Resistance crew.



So, just download it by clicking here, turn up your sound sytem and enjoy!
23/11/05
Pretty soon, the blog will be updated with: a new playlist, pictures and sum-up of the clubbing in Shanghai, new sounds, and maybe new mixes....
Stay tuned....